Greetings!  After more than ten years of using my blogger page as a pseudo website, I am happy to have found a new home for Bridgework online.  Welcome!  I hope this message finds you well and staying safe during these crazy covid times.  While I have been fortunate enough to remain employed and working during the pandemic, I also wanted to put some of the extra time at home to good use for creative purposes.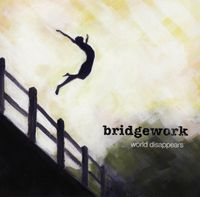 Earlier this year I had the pleasure of working with one of my longtime influences, J Robbins (Jawbox, Burning Airlines) to remix the Bridgework "World Disappears" EP from 2008.   Robbins has produced more of my favorite bands and albums than I could ever possibly count.  Rather than try to remix the songs myself, I wanted to get some professional ears involved to both benefit from their expertise, and learn from the experience. 
J was available to take the project on, and I am most grateful.  After the mixes were complete, they were sent over to J's recommended mastering engineer Dan Coutant at Sun Room Audio.  Dan masterfully put the finishing touches on the songs, and I am happy to say that the EP will be re-released sometime in December on all the usual digital platforms (Apple Music, Spotify, etc).
For the time being, I have posted the newly remixed and remastered "Jumping Off The High Bridge" here as a preview for the EP to come. Thanks for tuning in!
Listen to: Jumping Off The High Bridge (J Robbins Mix 2020)
J Robbins - Magpie Cage Studio - www.magpiecage.com 
Dan Coutant - Sun Room Audio - srmastering.com
Your friendly neighborhood bridgework guy - John